Awning Types
---
Fabrics
We use fabrics from Sunbrella and Weblon.
Taking Measurements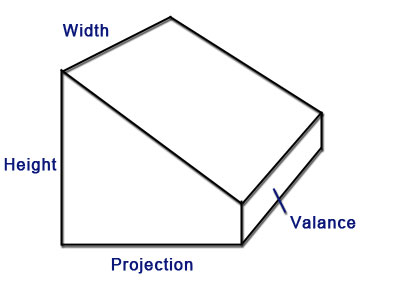 How long do your commercial awnings last? Today's fabrics are generally warranted for five years. With proper maintenance and care, your commercial awnings should last much longer. The exposure of your awning and care will greatly determine their life.
What colors are available? Today's fabrics for commercial awnings and canopies come in hundreds of solid and striped colors! Visit the fabric section of our website for more information.
How do I keep my commercial awning clean? Regular maintenance generally means a once-a-year cleaning, with additional care if stains or soilage appears. Also, remember that your commercial awnings and canopies are exterior products. In the same way you wouldn't leave your automobile outside without washing it for very long, you'll also need to clean your canvas awnings and canopies to preserve and extend their good looks and service life. Click here for cleaning instructions.
Are awnings waterproof? Can I stay out under my awning in inclement weather? Generally speaking, commerical awning and canopy fabrics are water-repellent, not waterproof. There are exceptions, though, which may be practical in certain environments. The fabrics' water-repellent characteristics allow you to fully enjoy the space shaded by the commercial awnings or canopies during any weather conditions that aren't severe. In other words, if the weather is nice enough for you to be outside, then it is good enough for you to be out underneath your commercial awnings or canopies.
What are the support frames made from? How durable are they? Metal support frames are made from aluminum and will last a lifetime! Regular maintenance on a frame requires an annual inspection of fasteners, connections and metal condition. Frames for your commercial awnings and canopies are also available with a painted finish for additional protection and attractiveness.
Contact Us
Need a Commercial Awning Fast? Click here and go to our custom quote request form.
Contact Us
We Use:

Commercial Awnings
317-472-0440
Selling and servicing metal and fabric awnings in Central Indiana, including Marion county, Hamilton county, Hancock county, Hendricks county, Shelby county, Johnson county, Morgan county and Boone county.